Bet El Annual Gala Dinner
Dec. 3, 2017
Ayelet Shaked
Israel Minister of Justice
Ms. Shaked has served as Israel's Minister of Justice since May 2015.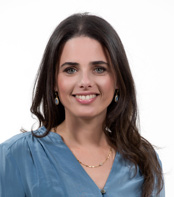 Minister Shaked holds primary responsibility for all legislative initiatives on various issues, and their presentation to the Parliament (Knesset) and its relevant committees.
Minister Shaked chairs the Judicial Selection Committee, as well as the Ministerial Committee for Legislation, and she serves as a member of the Security Cabinet within the Israeli Government.
Minister Shaked is affiliated with the Israeli "Bayit Yehudi" political party. In 2012, she was elected second in the party primaries, making her both the first woman and the first secular nominee elected to the party list. In 2015, she was elected first on the list.
As part of her parliamentary duties, Shaked led the initiative for returning illegal migrants to their home countries, the Special Committee for drafting legislation to integrate the Ultra-Orthodox into the Israeli Defense Forces and Israeli society, and the lobby for the release of Jonathan Pollard from prison in the United States.
In the beginning of 2010, Minister Shaked and Minister of Education, Naftali Bennett, founded the "My Israel" movement. The movement, led by Minister Shaked until May 2012, called for Zionist activities and accurate information on the Internet. As a result of her efforts at "My Israel", she was awarded the 2012 Abramowitz Israeli Prize for Media Criticism.
Minister Shaked holds a B.Sc. in Electrical Engineering and Computer Science from Tel Aviv University.
She is married, and is the mother of two children. She lives in the Bavli neighborhood of Tel Aviv, where she was raised.
John Bolton
US Former Ambassador to the United Nations
John R. Bolton was appointed as United States Permanent Representative to the United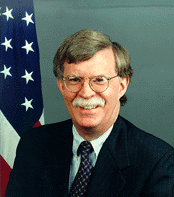 Nations on August 1, 2005 and served until his resignation in December 2006. Prior to his appointment, Ambassador Bolton served as Under Secretary of State for Arms Control and International Security from May 2001 to May 2005.
Throughout his distinguished career, Ambassador Bolton has been a staunch defender of American interests. While Under Secretary of State, he repeatedly advocated tough measures against the nuclear weapons programs of both Iran and North Korea, and the proliferation of weapons of mass destruction worldwide.
During his tenure at the United Nations, he was a leading voice on the need for the Security Council to take strong and meaningful action against international proliferation and terrorism. He continued his efforts to prevent North Korea and Iran from gaining deliverable nuclear weapons. Mr. Bolton was the US Ambassador to the UN who struck down the Zionism is Racism Resolution which had stood for 19 years.
Ambassador Bolton was also an advocate for human rights while serving at the UN. He arranged the Security Council's first deliberations on Burma's human rights abuses. He invited actor George Clooney and Nobel laureate Elie Wiesel to brief the Security Council in September 2006 on the Khartoum regime's mass-murder of non-Arabs in Darfur, Sudan. "Every day we delay only adds to the suffering of the Sudanese people and extends the genocide," Ambassador Bolton said. He worked to pressure Sudan's government to accept these personnel atop the 7,000 African Union soldiers already on site.
Ambassador Bolton is the author of Surrender is Not an Option: Defending America at the U.N. and Abroad, published by Simon and Schuster (November 2007) and How Barack Obama is Endangering our National Sovereignty, published by Encounter Books (April 2010).
Ambassador Bolton currently serves as a senior fellow at the American Enterprise Institute (AEI), a contributor to FOX News Channel and FOX Business Network, and his op-ed articles are regularly featured in The Wall Street Journal, The New York Times and The Los Angeles Times.
Ambassador Bolton was born in Baltimore, Maryland. He graduated with a Bachelor of Arts degree, summa cum laude, Phi Beta Kappa, from Yale College in 1970, and received his Juris Doctor from Yale Law School in 1974. He currently resides in Maryland with his wife, Gretchen. They have one daughter, Jennifer Sarah, who also graduated from Yale College, and received her MBA and SM degrees from MIT in 2014.